Aweber Review Summary
Aweber is an email marketing tool that helps bloggers, marketers, entrepreneurs, and companies grow their email lists by automating their email marketing efforts.


The bloggers, email marketers and entrepreneurs who want to build an email list of customers

Yes, 30-day free trial or select a prepaid quarterly or annual plan to save more.
Verdict
Aweber is one of the oldest and most trusted email autoresponder tools and serves hundreds of thousands of customers worldwide. But it seems that they are not keeping up with the changing trends and lacks many features. Almost all of the majority of email marketing tools like GetResponse, ConvertKit or Mailvio nowadays offer email automation, sales funnels, webinars, landing pages, etc.
When it comes to email marketing Aweber has retained its position in the top ten list for years.
If you are familiar with email marketing, you would certainly have heard about Aweber.
After all, it has been in this business for more than 20 years as of now.
Before we jump right into the Aweber review I wanted to talk a little bit about astonishing facts about emails.
Related: GetResponse Review: GetResponse Features, Free-Trial &Pricing
Why Email Marketing Is Still Important?
Emails are still one of the most important channels to gain new customers and maintain healthy relationships with existing ones.
Almost all the entrepreneurs, marketers and companies are constantly looking for building their email list to grow their businesses and a customer base.
Email marketing is a key strategy used by entrepreneurs and large companies for building a loyal relationship with prospects and customers.
It allows you to keep your prospects informed about the latest events and updates happening in your business or life.
The email helps to establish a personal connection that can get you more sales from the same subscribers.
Furthermore, it enables you to get real-time feedback from your subscribers that can help you improve and streamline your business processes.
The Statistica says, the number of users who will be using the emails is set to cross a 4.4 billion mark.
The HubSpot study says an average ROI you get for spending $1 onto the email is whopping $38.
Anyone who thinks that emails will die soon, should check these facts and consider building an email list as one of the important marketing arsenals.
Email automation is also becoming a standard practice nowadays by almost all the small to large businesses worldwide.
This is the area where Aweber can help you.
In this comprehensive Aweber review 2020, I will talk about everything that you must know about Aweber if you are planning to try it out.
Does Aweber Autoresponder Still Matter?
Aweber is an email marketing platform that is trusted by more than 120,000+ customers worldwide.
Aweber is one of those few email marketing tools that has survived for a long period of time and still going strong.
The majority of the Aweber customers are bloggers, YouTubers, small businesses and entrepreneurs around the world.
They claim that they invented the "autoresponder" which I believe shouldn't be the small thing.
However, Aweber is not my personal choice when it comes to automating my email campaigns.
Sales funnels and webinars are becoming increasingly popular but Aweber is yet to offer them (as of today) in their services.
Over the years we have witnessed many powerful email marketing and automation tools like GetResponse, ConvertKit, ActiveCampaign, MailChimp, etc.
There are many more tools that offer you to build sales pages, webinars, beautiful and responsive landing pages etc with even at a lower price than Aweber.
I am not saying Aweber is not good but what I am saying is, at the same price you have other tools that offer more features.
Each tool has its own pros and cons and because of that sometimes it becomes harder for you to decide which tool could be a perfect choice for your business.
Make sure you are clear with what you need for your business and do your own research before swiping out your credit card.
In this comprehensive Aweber review 2020, I am going to share with you what is Aweber, its features, pricing plans and everything else you must know before you plan to buy its services.
Related: ConvertKit Review: What Is ConvertKit, Features & Pricing
What Is Aweber?
Aweber is an email marketing tool that helps individual marketers, bloggers, entrepreneurs, and companies grow their email list of subscribers and keep in touch with them.
Aweber labels itself as an all-in-one solution for email marketing needs of businesses of all sizes.
​Try AWeber free for 30 days! - AWeber Communications
It was founded by Tom Kulzer back in 1998 in Pennsylvania, USA.
Over the years Aweber has managed to retain its position as one of the best email marketing tools in this highly-dynamic industry.
So the question is, what is Aweber used for?
Aweber is known for it's "email autoresponder" feature that gives you an ability to send the automatic follow up emails to your subscribers as per the schedule you set up.
However, it's not the only service that Aweber offers.
It comes with many more useful services such as broadcasts, landing pages, web forms or sign up forms, subscriber tagging, and segmentation, RSS to Email and many more features.
It has an in-built library of customizable email templates and newsletters that can be used for your email campaigns.
You have hundreds of pre-designed sign-up forms at your fingertips that can be easily embedded into your website using a simple copy and paste code.
Aweber gives you an in-detail statistics about how each of your email campaigns is performing.
Quickly see how your subscribers are interacting with your emails by checking open rates, click-through rates, subscribers location etc that are displayed in the graphical format.
Furthermore, you can view the daily, weekly or monthly data for your subscribers, autoresponders, sign up forms, broadcasts, etc.
What they call them "list reports" that are available for each list you create within Aweber. This information not only helps you fine-tune your email campaigns but also improve overall ROI for your business.
Moreover, if you don't get a chance to sit in front of your computer all the time, download their mobile app to your smartphone and keep tracking your campaigns round the clock.
These are just a handful of interesting features that Aweber offers.
Now, let's talk about all the features that Aweber offers.
Aweber Features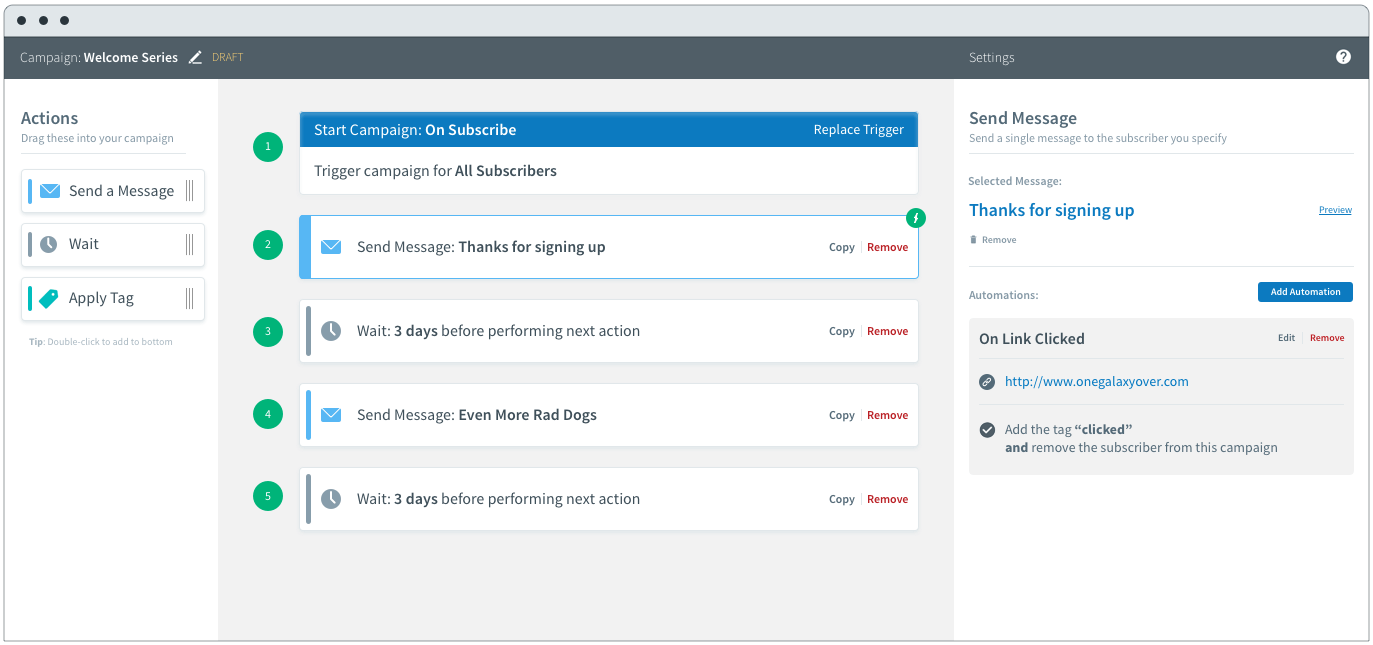 We talked about what is Aweber, its history, and a few key features briefly.
It's time that we explore all the features that come along Aweber so that you will have a better idea about whether this tool is right for your business or not.
Here are the key Aweber features that you can look forward to.
1. Drag-and-Drop Editor
The drag-and-drop email editor is powerful and one of the most important features that Aweber offers.
It comes with over 700+ customizable mobile response email templates.
With this email builder, you can create beautiful and converting emails inside your Aweber account.
Simply start from scratch or pick up the template of your choice and start designing the email autoresponder or newsletter.
Save the template as a draft and use it in your next email.
2. Email Automation
Creating automated email sequences with Aweber is pretty easy and straightforward.
You can set up all your follow up emails inside of Aweber quickly using its powerful email editor.
It's a simple three-step process, "write a message", "wait" and "apply the tag".
Simply create your email content and specify the day the email should be sent.
For example, send an email daily on a specific time or the time user subscribed to your email list.
The automated follow-up emails can also be sent based on your customer's behavior.
You have an ability to personalize the emails, for example, use subscriber's first name, last name and location.
It's just a matter of few clicks to integrate your email sequences with 700+ tools such as OptinMonster, Unbounce, LeadPages, etc.
There is much more you can do with this Aweber's email automation service.
3. Tagging
An email list is a group of subscribers you send repeated emails to while the tags allow you to group together the contacts that have similar interests from different email lists.
Apply the tags that will trigger campaigns based on which emails your subscribers open and click.
This way you have an ability to trigger targeted campaigns like sending personalized welcome emails, training courses, promotional emails, etc.
Tagging and triggering the more targeted emails not only empower you to engage more with your audience but also transform passive prospects into paying customers.
4. Email Newsletters
We already talked about the powerful drag-and-drop email builder that you are equipped with your Aweber account.
With this smart editor, you will be able to design beautiful and mobile-responsive newsletters quickly.
You will not need any programming skills in order to create newsletters.
Choose from a library of hundreds of ready-made mobile-response and branded HTML templates or design from scratch.
Insert the images into your emails from more than 6000 royalty-free stock photos or upload your own images that can be hosted on your Aweber account for free.
5. Sign Up Forms
Aweber comes with a powerful sign up form generator that allows you to create the sign up forms in a matter of a few minutes.
Furthermore, there is a library of hundreds of pre-designed and ready-to-customize templates that you can directly pick up and use.
The sign up forms, opt-in forms and pop up forms created inside of your Aweber account are mobile-responsive that looks good on all kinds of devices like desktops, laptops, smartphones, and tablets.
The forms can be customized to match your brand by changing various options like images, color, and fonts.
You have the ability to add custom fields to capture more information from your subscribers in addition to the email address, for example, your customer's physical address, telephone number, etc.
Grab the simple JavaScript code to embed the sign up form, lightbox form or pop up on your blog or website.
Apply various animation effects to the forms such as the slide in, slide out, fade in, fade out with a time delay.
6. Integrations & Email API
One of the greatest advantages of using Aweber is that it provides the integration with more than 700 third party tools, probably the highest among all other competitors.
You can integrate your Aweber account to various platforms such as social media, landing pages, eCommerce, CRM, surveys, webinars, video, membership, etc.
The popular integrations include WordPress, PayPal, Shopify, JVZoo, LeadPages, and Unbounce.
In addition to 3rd party integrations, Aweber offers a robust email marketing API that you can use to build custom integrations seamlessly.
The API is standard and is trusted by many of the Aweber's partners such as Unbounce, Sumo, LeadPages, Zapier, and many more.
7. Split Testing
Split testing is the best way to put your ideas to test and Aweber just lets you do it easily.
There are multiple ways you can perform split testing inside of your Aweber account.
Try different subject lines, email content, graphics elements, and even change email send times to see what works best.
This allows you to easily identify which emails perform best and which need to be optimized.
You can split-test up to three emails at a given time with Aweber.
Aweber allows you to run the split test against 40% of your subscribers and see the results immediately.
If that variation works great for your audience, deliver it to the remaining 60%.
8. Analytics & Tracking
Keeping track of how your email campaigns are performing is just a matter of a few clicks inside your Aweber account.
Aweber displays open rates, click-through rates, purchases etc in the form of various graphs and plain data.
The tracking data helps you understand what your subscribers like, what they don't and deliver the right content accordingly.
Furthermore, it allows you to segment your email list based on the open rates, click-throughs, and purchases, etc.
Once you identify which emails are performing better, you can use them to boost traffic to your website.
That eventually leads you to get more ROI from your emails.
Use Aweber's mobile app for your Android or iPhone device to keep a watch on your email campaigns wherever you go.
9. Email Deliverability
Surviving as an email marketing tool for more than 20 years in this industry is not possible unless you offer spam-free inbox delivery.
Aweber is trusted by more than 120000+ customers worldwide because it offers industry-leading email deliverability.
Deliverability is not just about making it to the inbox without getting considered as spam.
It's also about gaining the trust of your subscribers and maintaining the relationships for a longer period of time.
Aweber has a team of experts and backend infrastructure that ensures your emails are optimized for successful inbox delivery.
10. Customer Support
Aweber claims they provide award-winning customer support.
Simply contact their customer support team anytime you want and get your queries answered.
You can contact Aweber's customer support team 7 days a week via phone, live chat or email.
Furthermore, if you want to help yourself there is a large knowledge base in the form of video walk-throughs and text tutorials.
Aweber Pricing: How Much Does Aweber Cost?
Now that you know everything about Aweber and its features, it's time that we talk about Aweber pricing.
So, how much does Aweber cost?
Here is how Aweber pricing works:
Aweber will cost you $19 per month for 0 up to 500 subscribers, $29 per month for 501 up to 2,500 subscribers, $49 per month for 2501 up to 5,000 subscribers, $69 per month for 5,001 up to 10,000 subscribers and $149 per month for 10,001 up to 25,000 subscribers.
Unlike many other email marketing tools that have multiple pricing plans, Aweber, on the other hand, has only one pricing plan that changes based on the number of subscribers you have.
Simply select the right plan straight away without having to check the long list of varying features.
You will get the same set of features no matter which plan you choose based on the number of subscribers you have.
The one thing I like the most about Aweber is that it offers a 30-day free trial that gives you enough time to explore all the features inside your account.
Most of the other email marketing tools offer only a 14-day free trial.
But unfortunately, Aweber lacks many features at this price that other competitors offer like sales funnels, in-built webinars, autofunnels etc.
Almost all the other tools have annual plans with discounts while in order to go for the annual plan you need to contact the Aweber support to make them available to you.
Moreover, the Aweber pricing is also a bit of a higher side, especially for the basic plan up to 2500 subscribers.
For example, GetResponse's pricing plans start at $15 per month for 1000 subscribers and it offers many more features as I mentioned above.
With GetResponse's 12-month and 24-month plans you get 18% and 30% discounts respectively.
That's the reason GetResponse is my favorite tool and I have been using it since 2013 and I haven't faced any technical issues so far.
Furthermore, their 24x7 quick live chat support is awesome.
Here are all the features that come along with each plan:
Unlimited Emails
Email automation
Tagging and segmenting
Analytics
Customer solutions
Sign up forms
Integrations
Image hosting
6,000+ stock photos
700+ email templates
Educational resources
You have an option to cancel your subscription at any time.
Conclusion
I hope this in-depth Aweber review 2020 will give you enough idea about this email marketing tool and whether it can really help your business or not.
As I mentioned earlier, Aweber is not my personal favorite because there are many areas they could improve upon with respect to what its competitors offer.
However, it doesn't mean at all that Aweber is not a good email marketing tool, it's trusted by top bloggers and companies around the world.
The only thing is that they need to keep updating their services and adding new features as per the latest trends.
Still, would you like to try out Aweber?
Click the button below and start your 30-day free trial now.
Are you struggling to find the right email marketing tool for your business?
Feel free to post your question in the comments below and I'd be happy to help you with the solution. 🙂